Flying Dino

Level

1

Price

105

Recharge Time

8 Hours

Income (Full Family)

9,500

Experience (Full Family)

180 level 50 - 1062

Egg Hatching Time

4 Hours

Stone

None

This Animal can initially be bought in the Ice World. But once Dino World is unlocked, Flying Dino will be transported there.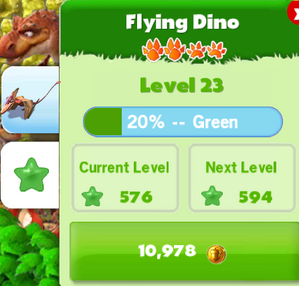 Incomplete Family Earnings
Family Members
1
4,750
90
2
5,937
112
3
7,125
135
level 50
1062

Sale History: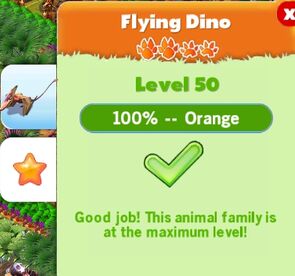 The Flying Dino is featured in the Freefall Simulator.
Price lowered from 150 in December, 2013.
This animal is not technically a dinosaur; rather, it's a member of the pterosaur family, which consists of prehistoric flying reptiles. [citation needed]. The species of this animal appears to be a Harpactognathus, a long-tailed pterosaur with a crest. [citation needed].
Hatch time lowered from 48 hrs in 2014.