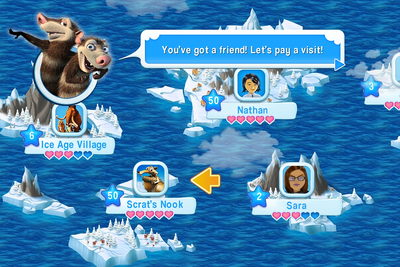 Друзья (также называемые соседи) - это другие игроки, с которыми вы соглашаетесь взаимодействовать внутри игры. В настоящее время игроки могут посещать только Ice World, а не Dino World. Однако Gameloft заявила, что хотела бы добавить возможность посетить Dino World в будущем обновлении.
Автоматические друзья
Edit
У нескольких главных героев есть деревни, которые вы можете посетить. Вам не нужно ничего делать, чтобы добавить их - они являются частью игры.
Добавление друзей
Edit
Есть несколько способов добавить друзей. Самый простой способ - сделать учетную запись Gameloft Live и войти в нее, пока вы играете (для этого нужно быть на Wi-Fi). Затем нажмите значок «Друзья», а затем выберите «Посещение другой деревни». Вы можете продолжать посещать случайные деревни - когда найдете то, что вам нравится, выберите «Добавить друга». Другому игроку будет отправлен запрос друга, и они могут принять или отказать в этом. Если они согласятся, они появятся на вашей карте деревень, и вы сможете их посетить. С момента последнего обновления игроки ограничиваются добавлением пяти друзей из случайных деревень.
Если вы хотите добавить больше друзей быстрее, вы можете перейти на «Добавить меня» на GL Forum и искать других людей, играющих в Ice Age Village, на той же платформе, которую вы используете (часто вы не сможете увидеть друзей, или вы не можете обмениваться подарками с ними, если они используют другую платформу). Когда у вас есть свои имена пользователей, вы можете добавить их в игру, перейдя в Gameloft Live внутри игры. На главном экране Gameloft (нажмите кнопку + и выберите «перейти в Gameloft Live»), перейдите к «друзьям» и введите имена людей (по одному за раз) и добавьте их. Когда у вас есть друзья, нажмите на имя друга в GL, и вы увидите три вкладки в верхней части для друга; средний говорит «друзья» - коснитесь этого, и вы увидите список всех друзей этого человека. Нажмите одно из названий (желательно, вы увидите, что уже играете Ice Age Village) и нажмите значок +, чтобы добавить этого человека в качестве друга. Вы можете продолжать идти к человеку,
You can also sign in using Facebook, but this is not usually as popular as it requires adding people as facebook friends to have them as friends within the game.
Friends can be a great way to earn

,

, and

. Once every 24 hours there are three ways you can help each other out:
You can find Scrat in friend's villages, and be rewarded with or an .
You can collect from friend's Hyrax Tree (if they are level 20 and have purchased it). You will be given a (more rarely, an ), and you'll be helping your friend's Hyrax Tree grow.

If you repeatedly tap the Hyrax tree as the heart comes out, you may get more than one heart; sometimes you can even get a heart *and* an acorn.
Generally, you have no control over whether your friends will return the favor and gift you back. However, the main characters (except Scrat) automatically return gifts (twice a day actually!) and collect from your Hyrax Tree.
Following Players
Edit
If you don't want to add a random player as a friend, but still want to revisit their village, choose to follow them instead of adding them. You may only follow 5 new random villages per day. And available follow slots are limited - you will gain an additional follow slot every 5 levels, starting at level 6.
Followed players show up just like regular friends - you can visit their village any time, and can like their village, find Scrat, and collect from their Hyrax Tree once a day. The only real difference is that your village won't show up on their friends screen, so they may not visit your village in return. This is still very useful to you, however, as the more villages your can visit and collect from, the easier it will be for you to complete missions that require collecting from friends. Additionally, if you visit a random village that you really like, following them is a certain way to make sure you'll be able to visit it again, because if you send a friend request that is ignored or denied, you won't be able to find that village again.
Чтобы перестать следовать за деревней, просто выберите «Отменить подписку» при следующем посещении или добавьте их в качестве друга.
Примечание. В деревнях, которые вы посещаете, дерево Hyrax может (но не всегда) казаться полным, даже если это не так. Однако это может быть исправлено в последнем обновлении.