Hare

Level

55

Price

7,000,000

Recharge Time

10 Hours

Income (Full Family)

7,350

Experience (Full Family)

200

Egg Hatching Time

12 Hours

Craggy Ice

None
The Hare is an Ice World Animal.
Incomplete Family Earnings
Family Members
1
3,675
100
2
4,593
125
3
5,512
150
The Orange Rabbit, Hare, and Easter Bunny for comparison.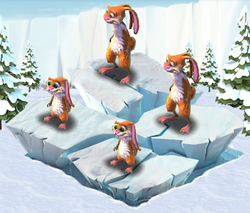 Hatch time was lowered from 120 hours (5 days!) in 2014.
Ad blocker interference detected!
Wikia is a free-to-use site that makes money from advertising. We have a modified experience for viewers using ad blockers

Wikia is not accessible if you've made further modifications. Remove the custom ad blocker rule(s) and the page will load as expected.