LIMITED - NOT AVAILABLE



World

Both

Price

15

Bonus

10%

Size

2x2

Selling Price

5

Level

?
The Jack-O'-Lantern is a decoration. It is only available around Halloween.
Release History:
Halloween 2013
April 30 - May 1, 2014 for Walpurgis.
Halloween 2014
Halloween 2015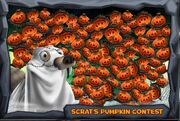 One Halloween this decoration was involved in a contest run on gameloft's Ice Age Village facebook page. The person to guess the correct number of Jack-O'-Lanterns in this picture was gifted with some acorns.
Ad blocker interference detected!
Wikia is a free-to-use site that makes money from advertising. We have a modified experience for viewers using ad blockers

Wikia is not accessible if you've made further modifications. Remove the custom ad blocker rule(s) and the page will load as expected.