LLAMA (LIMITED)

Level

N/A

Price

189

Recharge Time

10 Hours

Income (Full Family)

10,500

Experience (Full Family)

200

Egg Hatching Time

9 Hours

Stone

McDonald's Animals
The Llama is a limited Ice World Animal.
Release History:
Summer/Fall 2012 as a promotion. When available, it could only be obtained by changing the name of your village to "McDonalds". For more information, see the Animals and Collections pages.
June 3, 2014. Income increased and the price was changed - previously cost only 50,000 .
June 20-23, 2014. On sale for 94 (51% off).
Incomplete Family Earnings
Family Members
1
5,250
100
2
6,562
125
3
7,875
150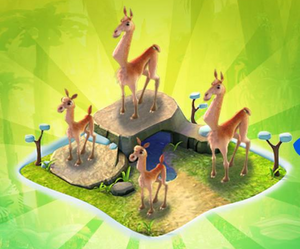 Hatch time was lowered from 96 hours (4 days) in 2014.
Ad blocker interference detected!
Wikia is a free-to-use site that makes money from advertising. We have a modified experience for viewers using ad blockers

Wikia is not accessible if you've made further modifications. Remove the custom ad blocker rule(s) and the page will load as expected.