Mardi Mammoth (Limited)

Level

?

Price

150

Recharge Time

4 Hours

Income (Full Family)

7,500

Experience (Full Family)

120

Egg Hatching Time

48 Hours

Mardi Gras

None
The Mardi Mammoth is a limited Ice World Animal available primarily around Mardi Gras.

Release History:
February 27 - March 10, 2014. It originally expired on March 1, but was extended two times.
Mardi Gras 2015. Habitat changed from Plains.
February 8-9, 2016 (Mardi Gras). On sale for 105 (30% off).
Incomplete Family Earnings
Family Members
1
3,750
60
2
4,687
75
3
5,625
90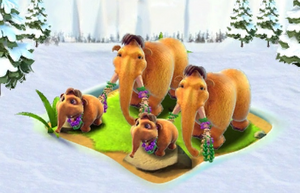 Ad blocker interference detected!
Wikia is a free-to-use site that makes money from advertising. We have a modified experience for viewers using ad blockers

Wikia is not accessible if you've made further modifications. Remove the custom ad blocker rule(s) and the page will load as expected.