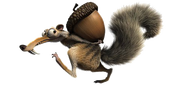 Scrat is one of the main characters in Ice Age; he is the sabertooth squirrel who's always looking for an acorn. it eventually caused a collision course of meteors in the
Dino World
.
Catching Scrat
Edit
Catching Scrat is a way to earn

and

.

He runs across the screen every few minutes during gameplay in your village (although there is a longer time between appearances in higher level villages
[1]
) - if you "catch" him (by tapping him) and tap his acorn, you earn

. To figure out how many coins you can earn from him, multiply 150 by your level. As you get to higher levels, this makes Scrat a better earner than many
Animals
, and a far better coin reward than clearing
Snow Piles
! At Level 80 you earn 12,000 coins each time you catch him.

You can also catch Scrat once a day when you visit friends' villages. He is much harder to find, but the game gives you a hint after a short period of time. You'll earn more

if you find him before the hint appears. You occasionally even get

instead of

by finding Scrat here.
Scrat (the ice sculpture of Scrat)
Scrat in Ice
Sphinx Scrat
Scrat Fountain
Bronze and Jade Scrat Statues
The Nazca lines (when put together, the image forms Scrat)
Carnivorous flower (he gets eaten by it)
All of the Columns
anda
egg tera sir
References
Edit