Summersaurus (Limited)

Level

?

Price

Recharge Time

8 Hours

Income (Full Family)

8,500

Experience (Full Family)

180 level 50 - 1062

Egg Hatching Time

3 Hours

Spring

None

The Summersaurus is a limited Dino World Animal available primarily during the Flower Festival event. Lower-level players may buy this animal in the ice world, but it will be transfered to dino world once that is unlocked.
The first family member must be bought with Holiday Tokens. The remaining family members cost

.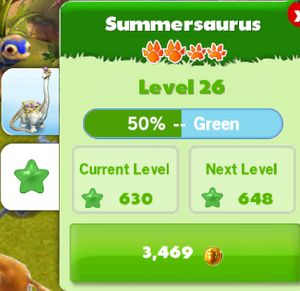 Release History:
July 23 - August 10, 2015: released for the 2015 Summer event.
Incomplete Family Earnings
Family Members
1
4,250
90
2
5,312
112
3
6,375
135
level 50
1062