T-Rex

Level

1

Price

1,000,000

Recharge Time

24 Hours

Income (Full Family)

14,500

Experience (Full Family)

280

Egg Hatching Time

4 Hours

Clearing

Biggies

This Animal can be initially purchased in Ice World, but will be transported to Dino World once you unlock it.
t-rex are common friends of
Buck
. he mates often with momma dino. momma dino appears to be scared by the unnamed
Theropod
, whose king, Rudy is Buck's archenemy. Buck is constantly trying to heal their rift. momma dino likes Buck back. two t-rex eggs, momma dino's, are kept by
Sid
. momma dino once saved Sid from a
Alligator
, despite
Sid being clumsy with them.
t-rex in their prime have rounded hips.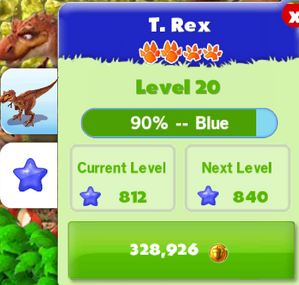 Incomplete Family Earnings
Family Members
1
7,250
140
2
9,062
175
3
10,875
210
Hatching time lowered from 48 hours in 2014.
Originally, the T-Rex had a larger (6x6) habitat.
Ad blocker interference detected!
Wikia is a free-to-use site that makes money from advertising. We have a modified experience for viewers using ad blockers

Wikia is not accessible if you've made further modifications. Remove the custom ad blocker rule(s) and the page will load as expected.