Theropod

Level

1

Price

500

Recharge Time

3 Hours

Income (Full Family)

7,000

Experience (Full Family)

100

Egg Hatching Time

48 Hours

Plains (Ice World), Clearing (Dino World)

Theropods

This Animal may be intially purchased in Ice World, but once Dino World is unlocked it will be transported there.
Incomplete Family Earnings
Family Members
1
3,500
50
2
4,375
62
3
5,250
75

Sales History: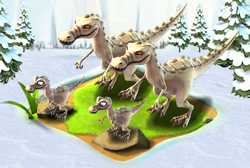 Price lowered from 1,000 in December, 2013. But this is still the most expensive animal in the game.
The Theropod is based on the Baryonyx. [cite note needed].
This animal resembles Rudy from the Ice Age 3: Dawn of The Dinosaurs movie.